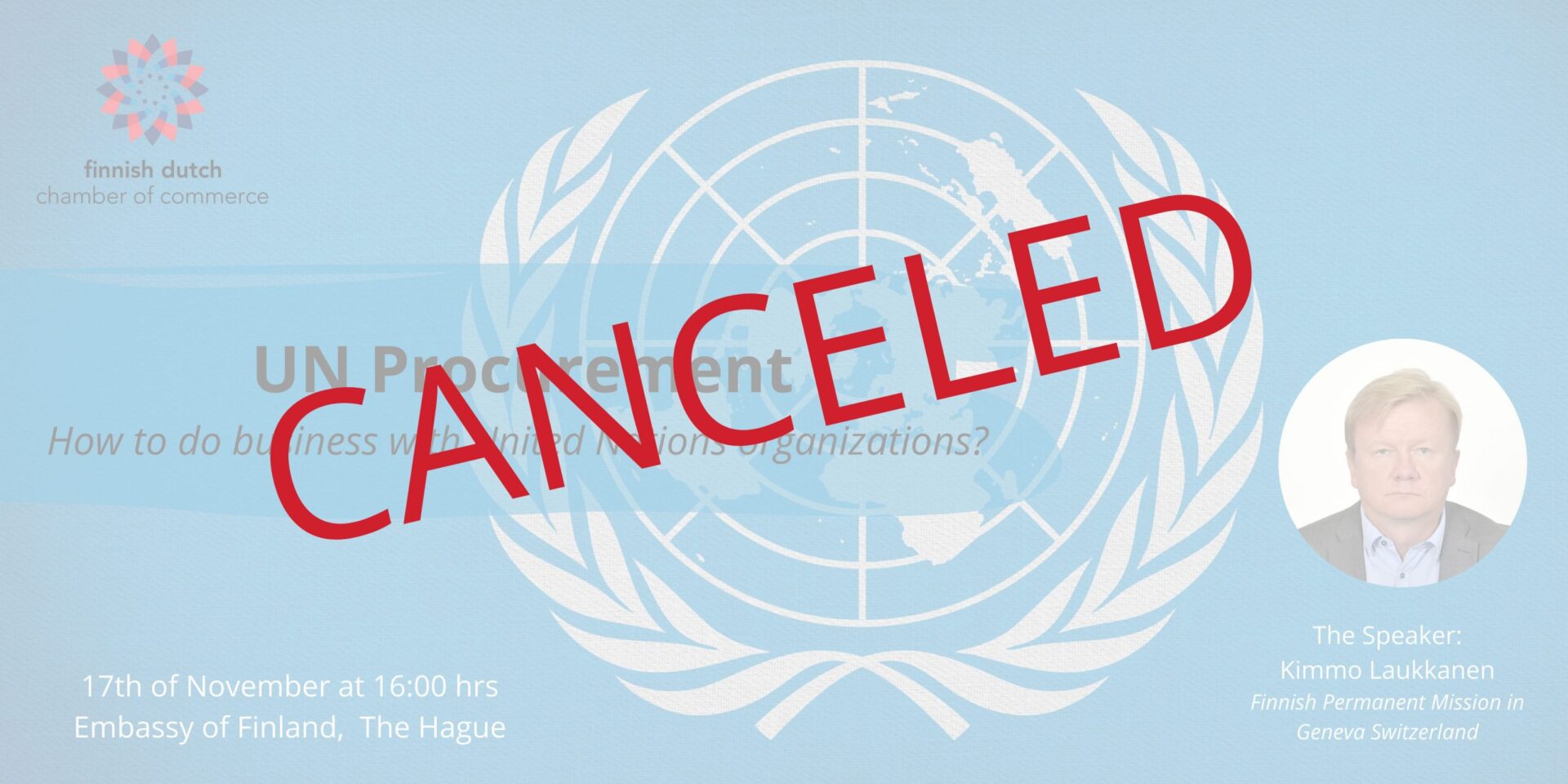 CANCELED: UN Procurement
UNFORTUNATELY DUE TO CIRCUMSTANCES THIS EVENT HAD TO BE CANCELED.
On 17th of November at 16:00 hours for UN Procurement event in the Embassy of Finland in the Hague. How to do business with United Nations organizations? UN, especially through its humanitarian and sustainable development procurement, poses a huge business potential to private companies. But the question is how to engage: how to find suitable entry points, and how to find the best possible modus operandi to do business with UN?
Doing business with UN is never easy, so the first question is if my company is suitable partner to UN and what can I offer? What are the requirements for the companies to be partner with UN ?  On the other hand, what kind of opportunities UN organizations can offer companies? Where can embassies help the companies to engage – where can the Finnish diplomatic mission make the difference in facilitating emerging business opportunities with UN?
The Speaker Kimmo Laukkanen is a Finnish Diplomat with more than 20 years of experience in multilateral issues, trade & development and Africa. Currently based at Finnish Permanent Mission in Geneva Switzerland, dealing with peace & security and UN disarmament affairs. Laukkanen joined the Foreign Ministry in 1991 and entered diplomatic career in March 1997.  Laukkanen has served embassies in Africa, Asia and Europe in different positions related to trade, development and multilateral issues and he has wide experience working with both private sector issues and United Nations agencies.. While serving at the Finnish Embassy in the Hague 2005-2008 Laukkanen was the Board member of Finnish-Dutch Trade Guild.
Kimmo Laukkanen is a coffee enthusiastic and the owner of "Timbuktun takana", coffee importer and retail company (African quality beans from Ivory Coast, Kenya and Rwanda.
Laukkanen is married with three children. His wife and youngest daughter are currently living in Bern, capital of Switzerland
Sign up  here by the 15th of November.