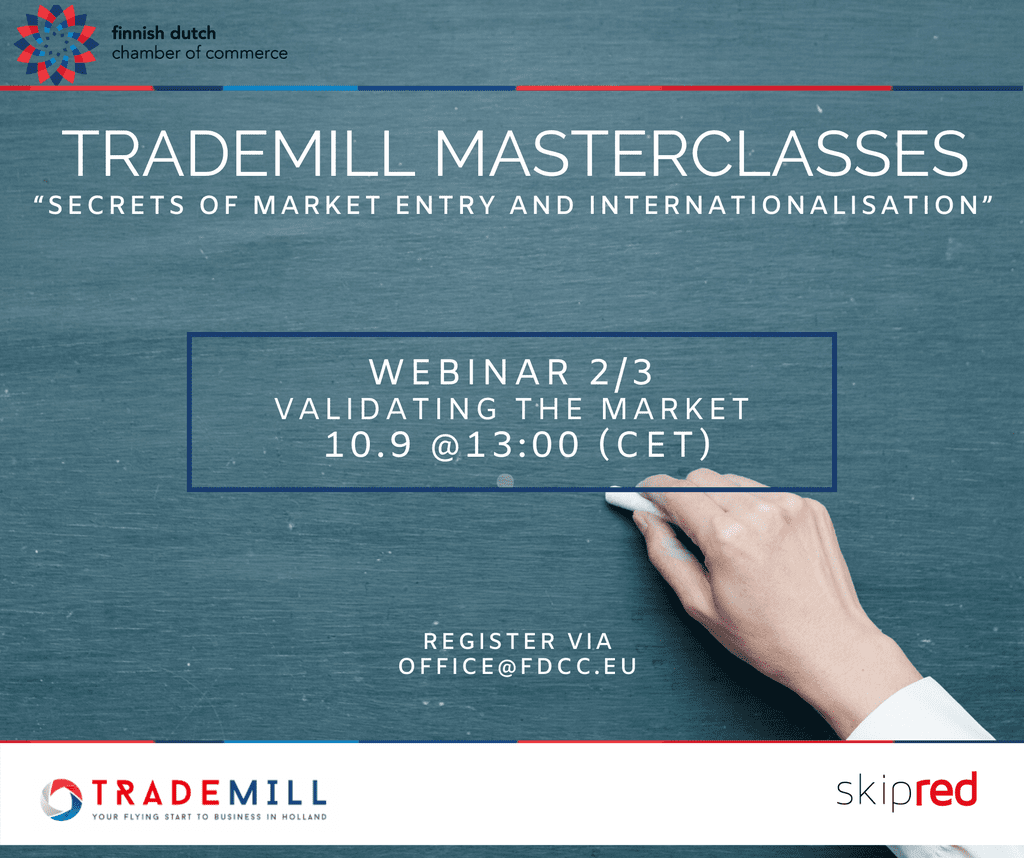 Trademill Masterclasses – Secrets of Market Entry 2/3
2/3 VALIDATING THE MARKET
Our second masterclass session VALIDATING THE MARKET focuses on first sales and marketing actions and market validation on the local entry market. We look at, for example, the following subtopics:
How to assess the market attractiveness?

What is your market-fit, what about the value proposition?

How to best utilise best your resources?

How commercial is your offering?

Creating local partnerships

Potential barriers and opportunities of market entry

How to handle practicalities?
AGENDA:
CET/FIT          
12:50/13:50   Webinar registration open
13:00/14:00    Welcome and introduction to the Masterclasses
                      FDCC & TradeMill
13:05/14:05    How to validate and enter the target market?                                                    
                     Petra Wullings, Trademill/Marc Wullings, Skipred
13:30/14:30     So, why should they buy your product?
                       with Tommi Pelkonen, Senior Advisor, Proof Advisory
13:50/14:50     Planning the business entry – Case story
14:10/15:10     Q & A
14:15 /15:15  Closing the webinar
REGISTRATION:
Interested to hear some secrets of successful market entry? Register through: info@fdcc.eu