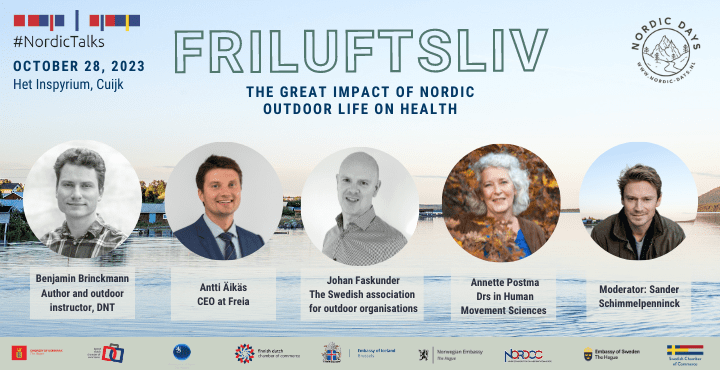 #NordicTalks2023 – The Great Impact of Outdoor Life on Health
On October 28, 2023, all Nordic Chambers of Commerce's together with the Nordic Embassies in the Netherlands will be organizing their annual #NordicTalks event at the Nordic Days fair. The topic of #NordicTalk 2023 is "Friluftsliv – Nordic Outdoor living".
Leading a healthy lifestyle that includes spending time outdoors in the nature the Nordic way can have a positive impact on work, study, and health by improving focus and productivity, reducing absenteeism, promoting better time management, reducing stress and anxiety, and improving physical health.
In the #NordicTalk 2023 Seminar we will gather company leaders, experts, and scientists from the Nordic countries and from the Netherlands, to discuss the latest trends and research together. At this event we have the honor to welcome The Nordic Ambassadors to the Netherlands and Sander Schimmelpenninck, author, entrepreneur, and tv-presenter., who will be moderating.
The Nordic Chambers and Embassies have organized the #NordicTalks as an annual networking event since 2012 allowing us to discuss various, dynamic topics of importance for all the Nordic countries, such as Sustainability and Circular Economy, Gender Balance and Diversity as well as Tech and AI.
We are very excited to collaborate with Nordic Days for the #NordicTalks 2023 and looking forward to meet up with you on October 28, 2023 at Inspyrium in Cuijk.