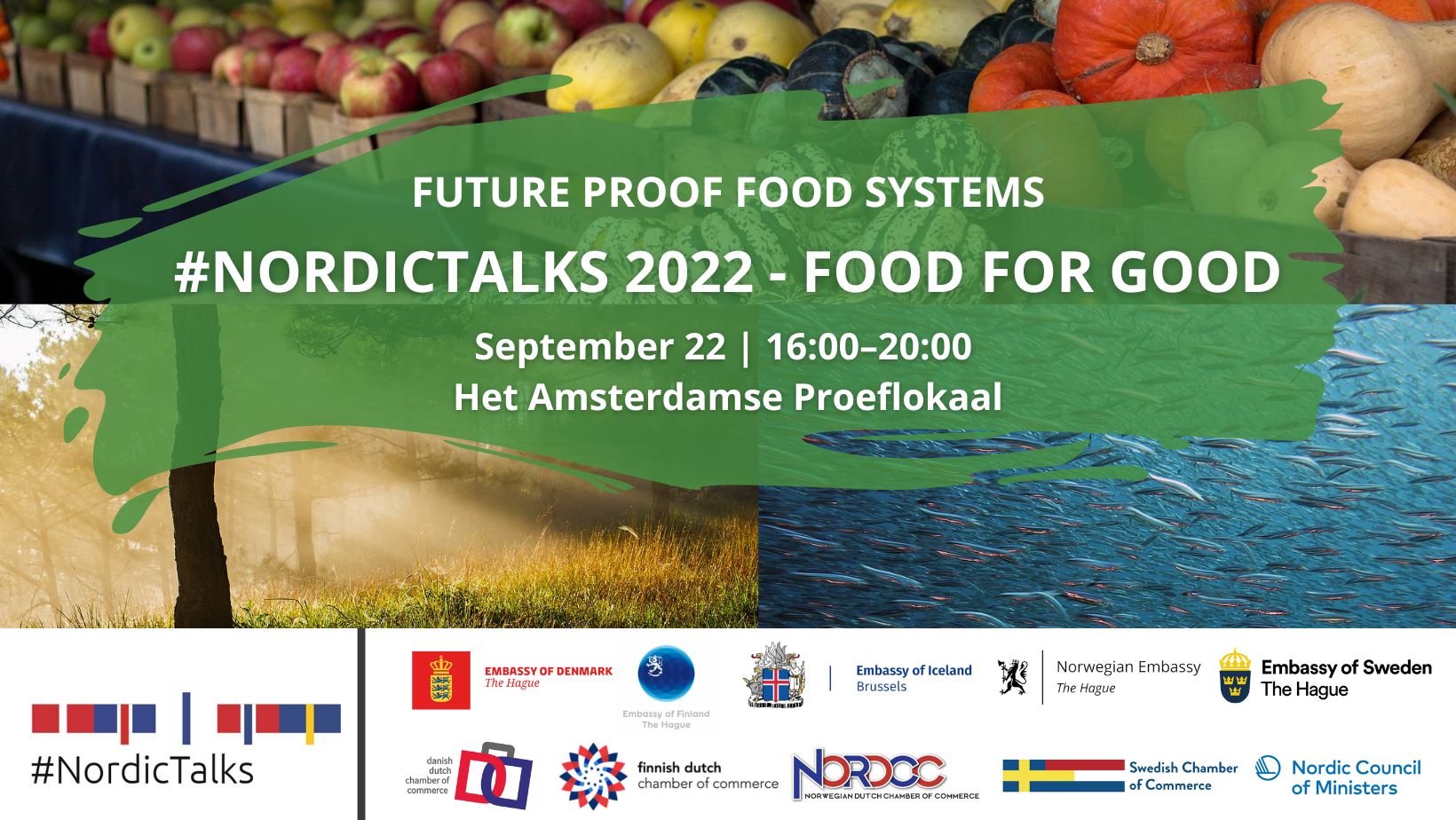 #NordicTalks 2022 – Food for Good
FUTURE-PROOF FOOD SYSTEMS 
What does a food system that is fit for the future look like? What do we need to create it? What do we already have in place? The food system is incredibly complex as it spans through different resources and across the globe. We need a complete overhaul of the system to be able to feed 10 billion people with nutritious food by 2050. During #NordicTalks 2022 on 22nd of September, we will meet up live at 'Het Amsterdamse Proeflokaal' to follow up on the insights and takeaways from the #NordicTalks digital Food for Good event in February 2022.

At #NordicTalks we bring together business leaders, entrepreneurs, politicians, and academics from the Nordic countries and from the Netherlands to address how we can contribute to the sustainable and healthy transformation of our global food systems. This will include insights on changes in nutrition sources, urban ecosystems, and local farming to shorten the supply chains and technology – all to ensure food security and resilience in times of climate change, economic decline, and war conflict in Europe.
Program:
15.30 Doors open and registration
16.00 – 18.00 Food for Good Summit
18.00 – 20.00  Food for Good EXPO
Registration free of charge on the #NordicTalks Website.
Food for Good Summit
During the Food For Good Summit we will hear from leading voices – from theoretical research and visionary innovations, through practical application, latest technology and possibilities to scale the solutions. After insightful Keynote speech, there will be two panel discussions:
1) Research and latest market insights
2) Best practices and application in business
Food for Good EXPO
Culinary sustainable inspiration from the Nordics including show kitchen with delicious food tasting, presentations of the Nordic food countries, inspirational talks about what you can do yourself to make your food habits more sustainable and with more impact. Experience Trondheim -TRØNDELAG EUROPEAN REGION OF GASTRONOMY 2022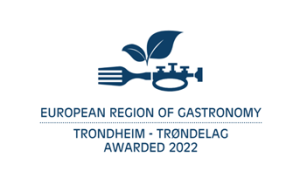 EUROPEAN REGION OF GASTRONOMY
The European Region of Gastronomy is by no means a tribute solely to Michelin-starred restaurants, white tablecloths and tall glasses – although this is part of the overall picture. The European Region of Gastronomy is rather a tribute to local food and local specialties. It's a tribute to a region that takes local food production seriously throughout the entire value chain. It's a tribute to the farmers, fishermen and breeders who conjure up the most delicious produce with tender love and care in every nook and cranny of Trøndelag for the Trøndelag chefs' society, which knows how to utilise world-class local produce in their work.
Registration free of charge on the #NordicTalks Website.
Golden tips for consumers from #NordicTalk Food for Good Februrary 2022:
Be your own gardener – see what you can grow on your own to realize what is the effort behind the whole process and also the value of the food once you put your energy into it 

Sniff, Look and Taste before you throw away food just because based on the label it is expired 

Support your local producers

Educate yourself of what are you eating, read what are the ingredients and nutritions of your choices. Choose smart! And explore new foods from time to time, keeping your mind open 

ENJOY – on your own, with family and friends – because food is such a big part of a culture and a way to express emotions
#NordicTalks2022 is a collaboration between the Embassies of Denmark, Finland, Iceland, Norway, and Sweden and the Chamber of Commerce of Denmark, Finland, Norway, and Sweden powered by the Nordic Council.
Public transport:
In Amsterdam it is easy to reach Het Amsterdamse Proeflokaal by bike or by Tram 24 and Bus 62. They both stops in front of the venue.
Are you coming by train from other locations in the Netherlands? Station Amsterdam Zuid is the nearest Train station. From Station Amsterdam Zuid it is only one stop with Metro 50 to Amstelveenseweg and a short walk to Het Amsterdamse Proeflokaal.
Parking:
You are welcome to use the Parking garage Parkeergarage Stadionplein situated in the same building as the Event. A day card available at the venue cost Euro 15,00 for the full day (normal costs Euro 35,00).
Venue:
Het Amsterdamse Proeflokaal, Stadionplein 300, 1076 CK Amsterdam
Registration free of charge on the #NordicTalks Website.