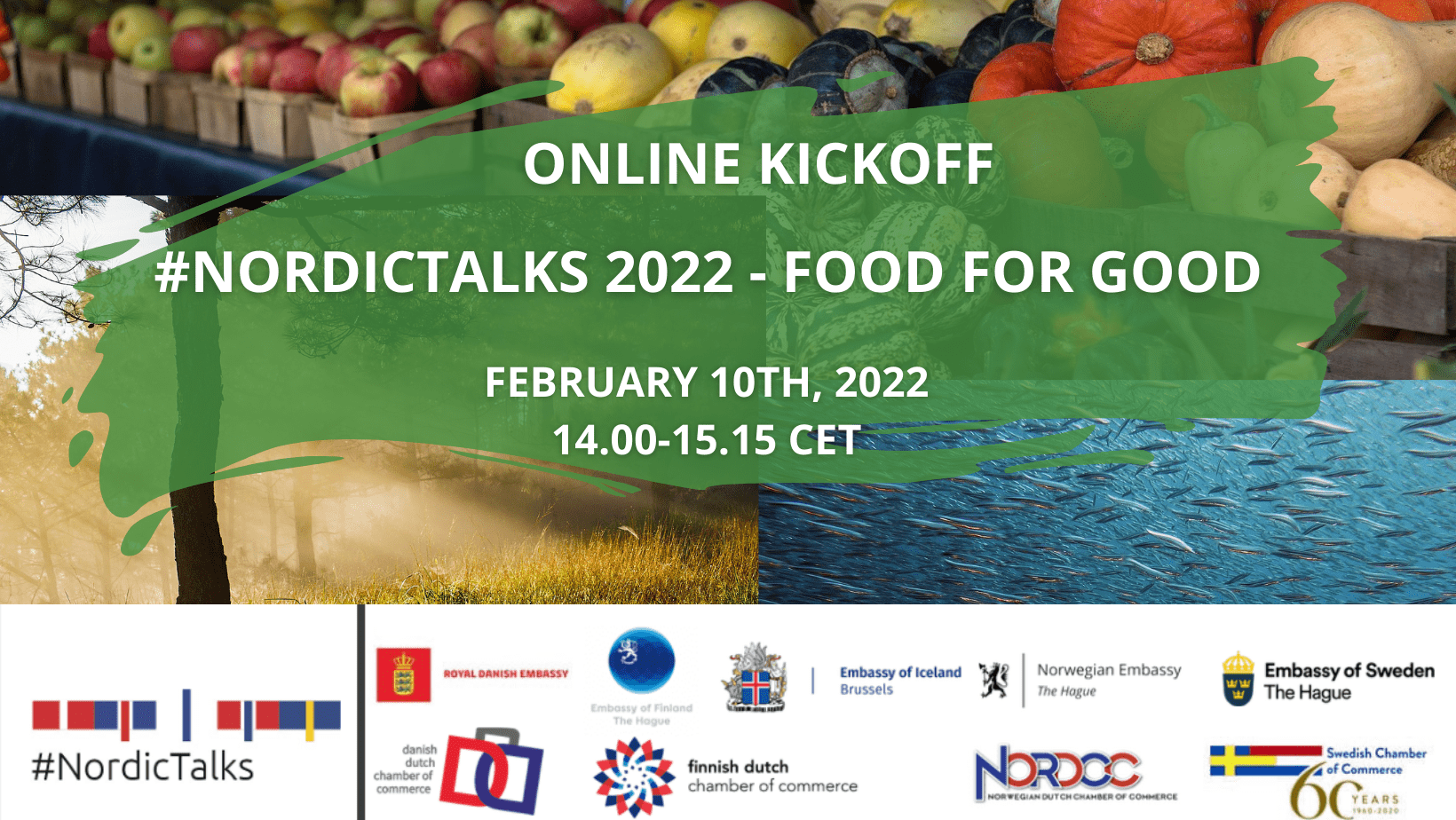 #NordicTalks 2022 Online Kickoff: Food for Good
On February 10, The Nordic Chambers of Commerce and the Nordic Embassies in the Netherlands hosted the online kick-off #NordicTalks – Food for Good. In this webinar, our experts, Katja Svensson, Jolijn Zwart-van Kessel, Einar Kleppe Holthe, and David Kat, dived into topics of the transition, sustainable food systems and lifestyle, future of food, prevention the food waste, and the role of data to get us there. The event was moderated by brilliant Andrea Orsag.
If you were not able to join the event, you are able to watch it on the #Nordictalks website 
Here are the key take-aways by Moderator Andrea Orsag:
The food system is incredibly complex as it spans through different resources and across the globe these days – we need a complete overhaul of the system to be able to feed 10 billion people with nutritious food by 2050
The inefficiencies of the current system are:
Uneven distribution 

Food wasting without considering closing the loops by using it as an input for different purposes

Disconnection from Nature – we lost sight of what is the true value of food and what's behind its production 

Lack of data and transparency 

Too long supply chains
Golden tips for consumers:
Be your own gardener – see what you can grow on your own to realize what is the effort behind the whole process and also the value of the food once you put your energy into it 

Sniff, Look and Taste before you throw away food just because based on the label it is expired 

Support your local producers

Educate yourself of what are you eating, read what are the ingredients and nutritions of your choices. Choose smart! And explore new foods from time to time, keeping your mind open 

ENJOY – on your own, with family and friends – because food is such a big part of a culture and a way to express emotions
Moderator:
Andrea Orsag
Sustainability and Circular Economy Evangelist. Andrea is a co-founder at MissionC, a strategy advisory based in Amsterdam on a mission to accelerate the transition to Circular Economy on a global scale. Consultant with 10+ years of experience combining Risk Management, Strategy, and Change Management cross-industry, both for the commercial sector and not-for-profit organisations internationally. Helping organisations bring their ideas to life by refining their sustainability strategies, adjusting business models towards circularity, delivering programs and engaging stakeholders. Andrea also acts as a speaker, guest lecturer, expert moderator and facilitator on topics related to Circular Economy and Sustainability.
Speakers:
Jolijn Zwart-van Kessel
Jolijn Zwart-van Kessel is the Innovation lead of Circular Agrifood at FoodValley and a partner in Agriculture & Fruit Farm De Kortenhof, which is a family farm active with technical innovation and sustainability. Next to that Jolijn works as an entrepreneur for ZwartvanKessel Advies. She has gained extensive experience in various positions in government, politics, and business, inside and outside the agrifood sector.
Einar K. Holthe
Einar K. Holthe is a Strategic Market Economist and has been working with sustainable systems most of his career. During the last 10 years, Hothe has been working with sustainable development strategies for the market, cities, and places, and formulated the methodology of Natural State of the Market – the economic consequence of awareness. Since 2020 he has been the Managing Partner of Nordic Circular Hotspot, where Natural State and the other Nordic managing partners have developed the market strategy for accelerating the transition to a circular and sustainable Nordic market by 2030.
Katja Svensson
Katja Svensson has a background in international development cooperation and has held posts with the EU, the UN, and the Swedish Foreign Service in Africa, the Caribbean, and Europe. Currently, she leads the work on sustainable food systems for the Nordic Council of Ministers, based in Copenhagen.
David Kat
David Kat was the online publisher and business developer for various VNU (now AC Nielsen) enterprises in the Netherlands, London, and Paris. He's been a business developer, entrepreneur, and active investor, since 2004. He has worked with companies including Mobileye, X-Sight Sys, Magink, and AgentVI to bring innovation to incumbent industries. A father of two daughters, he's energized by making this world a better place. His favorite channels of achieving that are business, food, and the arts.