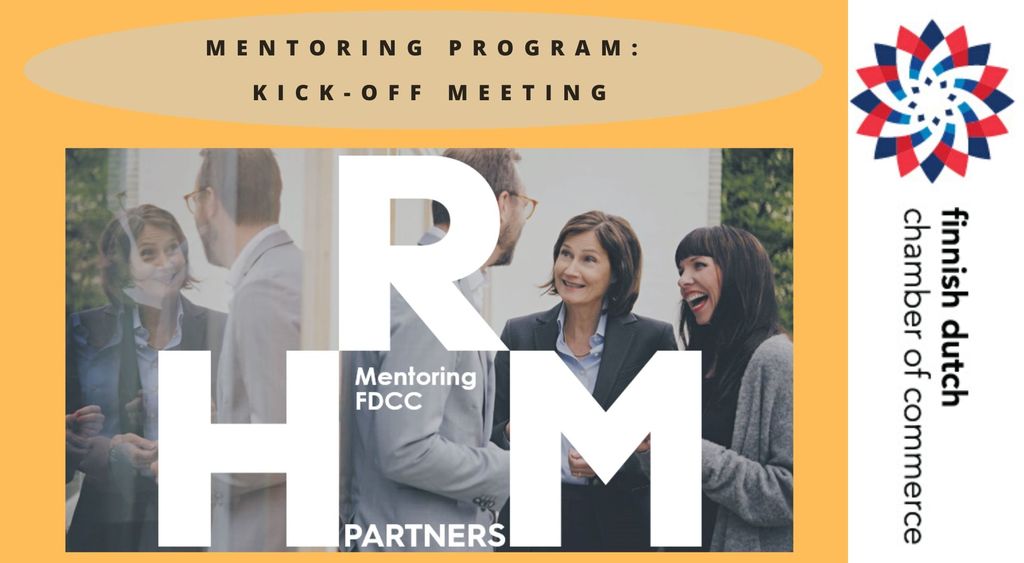 Mentoring Program: Kickoff Session
Welcome to the FDCC mentoring program! 
Mentoring process enables individuals to grow through a process of training, and coaching. It provides goal-orientated growth, learning and professional development for both mentees and mentors.
The program lasts for 12 months and it builds bridges between people, cultures, businesses and generations.
The aim of the program is to provide support and growth both for the mentors and mentees. Mentoring is based on the confidential interaction of two equal people, where know-how is transferred through mentoring meetings. The mentoring program is based on volunteering, but it requires a strong commitment to the process from both sides.
Mentoring is a goal-oriented learning and sharing process
One on one meetings are the corner stones of the mentoring program, but we will also organize meetings and seminars for the whole group. The program starts with a kick off meeting where you get more information about the program and where we plan and design together the mentoring process.  Our partner in this program is HRM Partners and your coach in the seminars will be Mari Tasanto – business director and coach from HRM Partners.
Schedule: 
Kick off meeting: February 13th.
The first mentoring seminar: tools for mentors and mentees. Date:  7th of April.  (To be confirmed)
Mentoring seminar: best practices and how to utilize diversity and different working styles in mentoring. (Between end of August – beginning of September)
Closing session of the mentoring program: sharing new ideas and how to continue lifelong learning after the mentoring process. (April 2021)
Being a Mentor or an Actor?
Typically a mentor is a person who has professional and life experience and who helps a mentee to develop skills, competencies, or goals. A mentor is an advisor and a role model who is willing to invest in the mentees personal growth and professional development.
Mentee is someone who has identified a specific personal or professional goal and who believes that the guidance and help of a mentor can help him/her achieve their goal.
Mentoring process can also be done with peers. Peer mentoring will be delivered one-on-one and both parties have their own development goal.
You can get the best out of mentoring when you have clear goals for the process and every meeting has a topic and target. Topics for example:
Basic business skills and knowledge sharing
Skill/competence transition related to professional skills
Leadership skills
Questions related to own personal development
Career planning
Prioritizing, time management
Self leadership
Work-life-balance
How to settle down to a new country etc…
Entrepreneurship
 Match-Making
Open discussions is the cornerstone of the whole program. Trust between mentor-mentee pairs, as well as mutual respect, are conditions for development during the program. We create mentor-mentee pairs based on the compatibility of both parties' experience and expectations after the kick-off meeting. You can also make a wish if you have somebody in your mind to be your mentor/peer mentor!
How to sign in
Please sign into the kick off meeting the latest at the Kick-off meeting on the 6th of February 2020 via office@fdcc.eu.
If you have additional questions, please contact Patrice van der Heiden (+31653360937).
And please also share with us your thoughts about the mentoring program: Your goals for mentoring and your expectations towards the match making
 Mentoring partner HRM Partners has 25 years of experience about careers and development. We have helped more than 1000 companies and 30 000 people in various phases in their careers over 25 years. We are a member of the international Arbora Global Career Partners Alliance.
 A few words from a past mentor and mentee
"It was an inspiring experience to be able to act as a mentor for the FDCC program and to connect and empower a younger person ( in my case a young ambitious and talented woman) with my own knowledge of the Dutch way of working and starting up your own business. I enjoyed the process of learning from other mentors and mentees and recommend this to all Dutch Finnish oriented business people. If you are successful in your line of business share your inspiration and skills by helping another person!"
-Susanna Nevalainen, previous mentor
"It was very useful to have a sparring partner who has more work experience than I with whom to talk about personal and professional development. Mentoring has taught me to relativize and think out of the box, which has proven to be very valuable. It landed me a temporary job and work experience through which I have grown as a person. This will also help me during my last semester of my studies and when starting to look for a more permanent job.
-Anne Bergshoeff, previous mentee