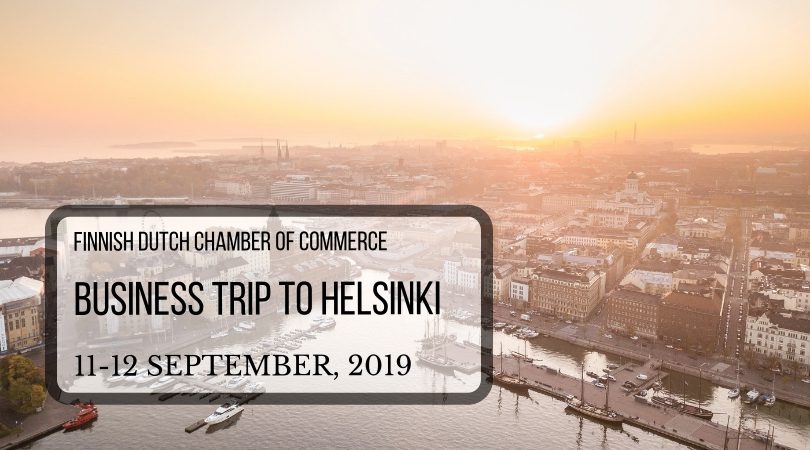 FDCC Business Trip 2019
View the picture gallery here
The Finnish Dutch Chamber of Commerce is organizing another inspiring business trip to Helsinki this year. On Wednesday 11th and Thursday 12th September 2019 we will spend two days in the Finnish capital with a good mix of business content, networking, a bit of culture and good food. It will be a perfect opportunity for FDCC members in The Netherlands to meet with their fellow members in Finland and the other way around. 
We welcome the members of the Danish Dutch Chamber of Commerce, the Norwegian Dutch Chamber of Commerce and the Swedish Chamber of Commerce to join as well. If you are not a member of one of the Nordic Chambers but still like to join please contact our General Manager, Patrice van der Heiden (patrice.vdheiden@fdcc.eu).
Program:
Tuesday 10th September
Arrival in Helsinki by own travel arrangements. Pre-event dinner for those who wish at 19.00 hrs (at own cost).
Wednesday 11th September
Theme: Transforming to sustainability; how different companies included/implemented sustainability in their business
09.00 hrs
Welcome and introductions by all participants
Presentation Accountor
Dialogue session 1: Touchpoint and Hesburger
Hesburger staff uniforms are made by TouchPoint, and the partnership between the companies has lasted over a decade. In this session we discuss the sustainability journey of the two companies.
Coffee break
Dialogue session 2: Sulapac
Sulapac® is a biodegradable and microplastic-free material made entirely from renewable sources and FSC-certified wood. Plastic manufacturers can use the material with their existing machinery. In this session, we discuss sustainable business opportunities and solutions.
Lunch
HRM Partners
Sustainable work life / Paula Kilpinen CEO, Transforming work: identifying the future capabilities and competences, Workshop / Paula Kilpinen and Mari Tasanto, Business Director, Wrap up and discussion
18.00 hrs
Dinner at Restaurant Paseo
Thursday 12th September
Theme: Digitalization – from various perspectives; digitalization as an enabler, problem solver and vehicle for new business ideas. The industry Experts share what's going on. 
09.15 hrs
Presentations & Demonstrations
Fabulos
The Fabulos project focuses on how cities can use self-driving minibuses in a systematic way. The goal is to procure the operations of an automated bus line.
In Helsinki, the autonomous bus line will be piloted in the Pasila and Kalasatama area in 2020.
Forum Virium
Forum Virium Helsinki is an innovation unit within the Helsinki City organization. It develops new digital services in cooperation with companies, other City of Helsinki units and residents.
Maria 01 Mobility start-up companies
A startup community that nowadays hosts over one thousand tech-heads and grows to be Europe's largest startup campus. Maria 01 solved the problem of not having a community targeted to startups that could offer more than just a 'coworking space'.
Lunch
Takeoff Partners
Internationalization and growth today. Takeoff Partners are experienced growth advisors and investors. As entrepreneurs they have built pioneering businesses from the ground up into      global leaders. We discuss two portfolio Case companies with footprint in digitalization & sustainability.
Oodi, Helsinki Central Library
Back to accommodation/hotel/free time
19.00 hrs
Closing Dinner at Restaurant Nokka
Participation fee:
The participation fee for a 2-day program on 11th and 12th September is including transport in Helsinki, lunches and dinners on both days.
-For members of the FDCC or other Nordic Chambers € 180,-
-For FDCC Young Professionals members € 150,-
-For non-members € 248,-
After registration, the FDCC Office will send you an invoice. Please note that refund will not be accepted after 1st of September. The FDCC is an association without a VAT liability so no VAT is included in the mentioned prices. If you like to join only one of the days please contact the FDCC Office.
Flights & Hotel:
You are asked to organize your travel to Helsinki following your own preferences; FDCC will not arrange flights. Transavia, KLM and Finnair have direct flights between Amsterdam and Helsinki. We offer hotel accommodation option with Hotel Anna for three nights (check-in 10th September, check-out 13th September) including breakfast for € 525,-. If you want to make a reservation in Hotel Anna please contact the FDCC Office before 15th July. For other accommodation options, we recommend a timely reservation, as the rooms may be selling out soon in Helsinki. You may compare alternatives fit to your personal budget for example at www.booking.com.
FDCC Office:
Patrice van der Heiden, tel. +31 6 5336 0937