Digital Webinar by Montae & Partners "Explore new Dutch pension law impacts: essential for employers in the Netherlands."  June 28, 2023, 13.00 – 14.00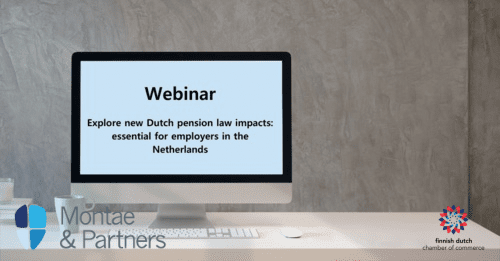 Mark your calendars for June 28!
Our member Montae & Partners is hosting a webinar delving into the implications of the newly approved Dutch pension legislation, essential for all employers and organizations operating in the Netherlands. Initiated after 15 years, this legislation brings pivotal changes affecting all employers and employees. Understanding these changes is crucial, particularly for international companies operating both domestically and abroad. This webinar offers in-depth, yet easily digestible information on the impact of the new pension system in the Netherlands. Don't miss this opportunity to grasp how this new legislation might impact your organization! Montae & Partners has published a short video which is useful to watch as context for the webinar. To watch it, click here.
We at the Finnish Dutch Chamber of Commerce hope to see you online. Please click here to sign up.