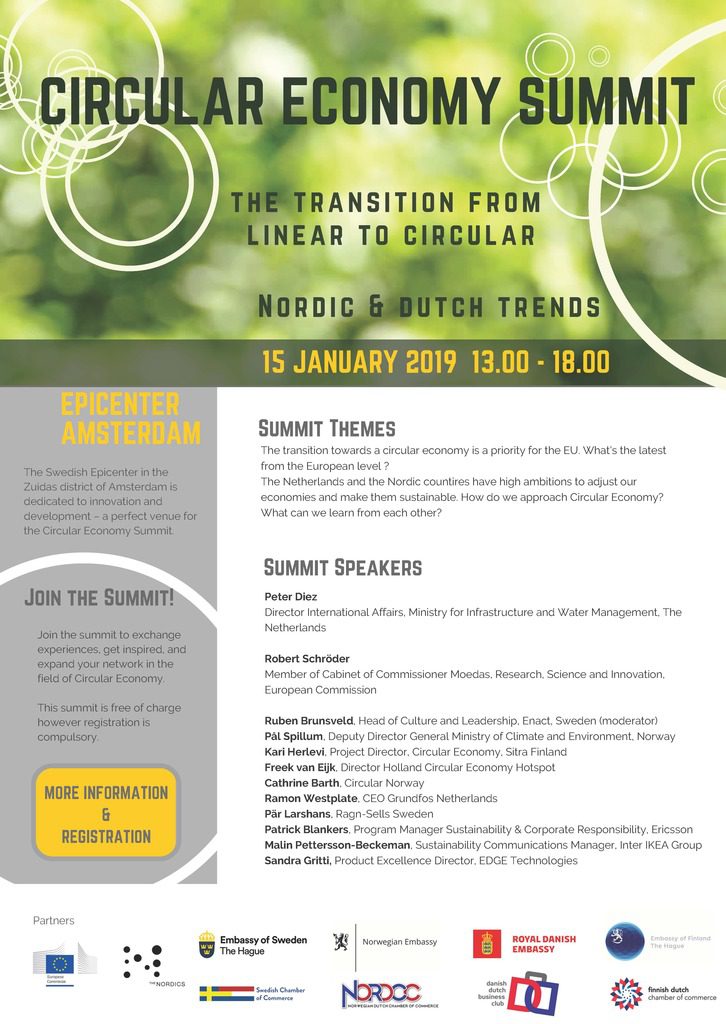 Nordic Circular Economy Summit 2019
 View the picture gallery here
What are the next steps in going from a linear to a circular economy? On January 15 the Swedish Chamber of Commerce, The Finnish Dutch Chamber of Commerce, The Norwegian Dutch Chamber of Commerce and the Danish Dutch Business Club together with the Nordic Embassies and the European Commission would like to start 2019 by inviting you to an inspiring cross-border Circular Economy Summit. We will present an insight into the latest news from the EU on the Road to Circular Economy and share the ambitious targets of the Netherlands and the Nordic Countries.  Global and local companies will be present to present and share experiences on their rapid journey from linear to circular.
The transition towards a circular economy is key to the quality of life, a sustainable world and provides huge economic opportunities. Circular Economy is today on the agenda of the EU as well as for most governments, companies, and organizations. A circular economy is a necessity to meet the global demands to generate more value from available resources, to combat climate change and to reduce and start reusing waste.
Welcome on January 15!
For more information and program, click here
Venue
Epicenter Amsterdam
Fred.Roekestraat 115,
1076 EE,
Amsterdam
Participation Fee:
Free of charge. Registration, however, is compulsory.
Registration via office@fdcc.eu, or through swedishchamber.nl, ddbc.nl, nordcc.nl