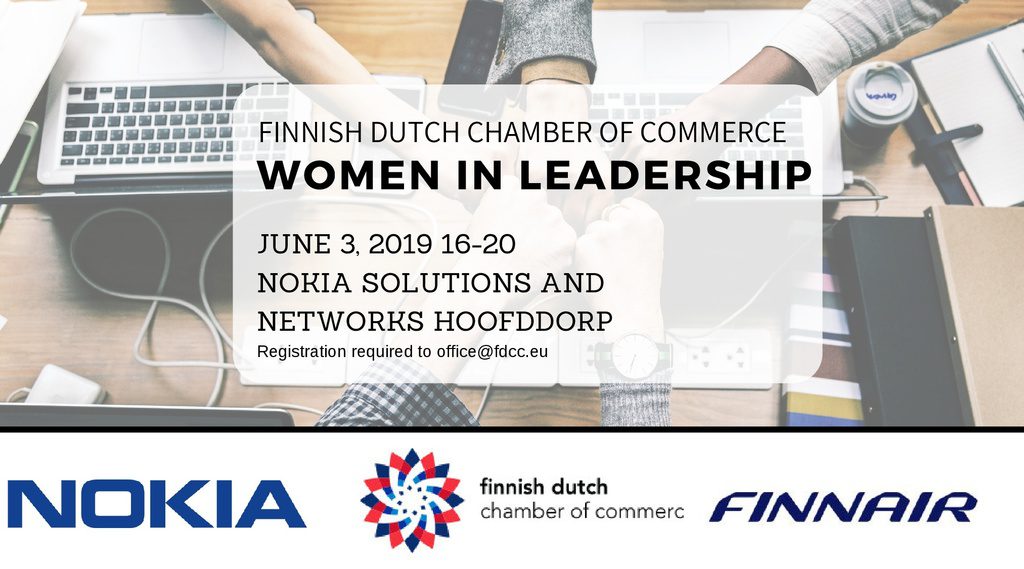 Women in Leadership
You can view the picture gallery for this event here.
The FDCC would like to offer you a warm welcome to our Women in Leadership event! This event will take place at the offices of Nokia in Hoofddorp on the 3rd of June. The purpose of this event is to bring women and men from all industries together to discuss and learn from each other. The focus is on stories of female corporate leaders of the (Finnish) international companies, how they have experienced their development into leadership and what they have learned during their career.
Gender equality is needed in order to maintain sustainable development across businesses and policies. Modern leadership skills can be learned, and we are confident that this event will empower women and men alike to reflect upon how they can enhance equality in their organizations or during their career.
The Finnish Ambassador H.E. Ms. Päivi Kaukoranta will also be present and will open the event.
---
PROGRAMME
16.00: Doors open, snack and drinks
16.30-16.40: Opening words by the Finnish Ambassador in the Netherlands, H.E. Ms. Päivi Kaukoranta
16.40-17.05: Presentation: Hilary Mine, Nokia
17.05-17.25: Presentation: Eija Hakakari, Finnair
17.25-17.45: Presentation: Artie Debidien, NIBC Bank
(small break)
18.00-18.45: Panel discussion (and audience questions) led by Susanna Nevalainen with all presentators.
18.45-19.00 Performance from Finnish Female Choir TAIKA
19.00-19.45 Networking, drinks and snacks
---
One of our keynote speakers for this event is Ms. Hilary Mine, VP and Market Unit Leader, Nordics, Baltics, and Benelux, Nokia

Based in Netherlands, Ms Mine leads Customer Operations for Nokia in eleven countries across Nordics, Baltics, and Benelux.  She and her teams lead all sales, business management, delivery and operations across the region.

Prior to her current role, Ms Mine was based in Silicon Valley, and ran Nokia's Global Network Transformation practice.  She has also run Alcatel-Lucent's global Consulting Services business, and the full regional business of Alcatel-Lucent in North Asia and Australasia/Oceania which included sales and delivery of large transformation and managed services projects, and well as being Managing Director of both Australia and New Zealand. 

Before joining Alcatel in 2002, Ms Mine was a much cited analyst and consultant working across the IT and telecom industries. She has worked in the communications and IT field for more than 25 years, during which time she has held senior executive roles with Nokia, Alcatel-Lucent, Technicolor and Probe Research, and has lived and worked extensively in Asia Pacific and Europe, as well as North America. 

 Ms Mine holds an MBA from San Francisco State University and a BA in Economics from Reed College.  She has one daughter, volunteers with BPeace, and enjoys cooking, yoga, hiking, and travel. 
---
Our second speaker is Ms. Eija Hakakari, SVP, People & Culture, from Finnair. Before joining Finnair, Eija Hakakari was SVP Human Resources at Stora Enso's Printing and Living division. Her previous positions include SVP Human Resources at Rautaruukki and various HR director positions in both China and Finland. 

Key positions of trust: Member of the Board of Aalto EE University 2015–
---
Our third speaker is Artie Debidien, CIO, NIBC Bank. Artie is an entrepreneur with over 20 years of experience in various Banking/IT Management domains. On the path of innovation first, she thinks about the need that can be transformed to a proposition customers and the company would benefit from directly (improved services & products) or indirectly (operational excellence & cost effectiveness).  Her result driven and goal oriented approach takes her the extra mile to create it. She is not afraid to change course, nor does she fear failure.

She has been involved in creating the KNAB bank in the Netherlands and is a member of multiple advisory boards.
---
Susanna Nevalainen will be facilitating the panel discussion,

Susanna Nevalainen is an inspiring professional in the areas of human communication and personal leadership. From origin Finnish woman who is working and living in the Netherlands already for more 25 years.

She is a well-known trainer and motivator in the Netherlands in the area of  Customer Service. Susanna develops different training programs , facilitates a lot of personal development and work related processes . Presently she works as a Manager at VANAD Academy, A Human Engagemnt company. She blogs (https://customerfirst.nl/auteurs/susanna-nevalainen/) , has written a book about Customer contact world ( Contact Center Anders, 2006 , 9789075432640 )   and another study material booklet for Human Contact Design ( Van Aandacht naar Daadkracht, 2018 https://www.vanadacademy.com/2018/02/23/aandacht-naar-daadkracht/ ).

One of her dreams was The Finnish Power Women network which she has co-founded in 2014 in the Netherlands. She has also been a chairwoman for 2 years at the Stichting Finnish Women day a couple of years ago. Susanna has also been a Board member of the Finnish Dutch Chamber of Commerce for 6 years.

At this moment she is working on a Dutch training and development project project with the municipalities where the unemployed people are being re-educated and trained to start a new working carrier in the customer service business. This program combines her long experience as a Customer Service professional, Human contact design and the will to empower people, especially women.
---
TAIKA (meaning 'magic' in Finnish) is a The Hague-based all-Finnish female choir. It was founded in 2012 by its conductor Master of Music Karla-Maria Toiviainen. In just six years the choir has grown from a small hobby choir of merely eight singers to a serious choir of more than twenty singers, and the choir has achieved a valuable role in the Finnish community in The Netherlands.

TAIKA's mission is to promote, often together with partners, Finnish culture and female choral music in The Netherlands. Another important part of TAIKA's mission is to provide a peer community for Finnish female singers.

More information: www.taikachoir.com
---
Participation fee:
Young Professionals: 10€
FDCC-members: 15€
Non-members: 20€
Registration:
You can register via sending an email to office@fdcc.eu before the 29th of May.
While registering, please inform us of interesting topics you would wish to be discussed.