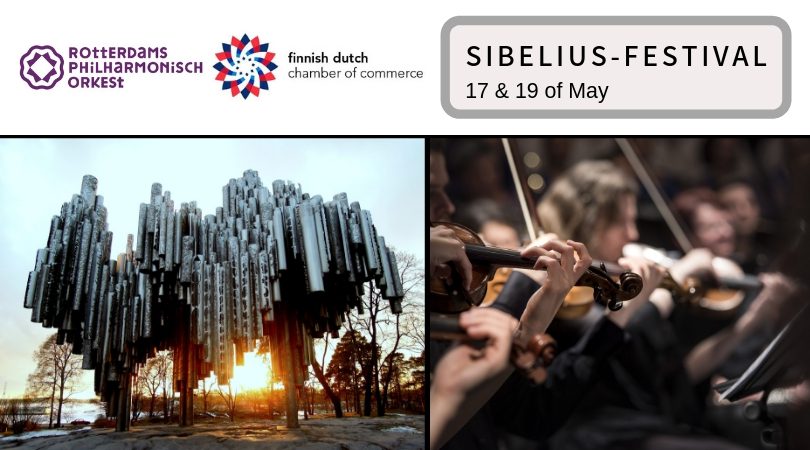 Sibelius Festival
The FDCC will be hosting a Sibelius Festival together with the Finland 100 Foundation, at De Doelen in Rotterdam on the 17th and 19th of May. You can invite your business relations to our welcoming event, which will take place before the concert and where snacks and drinks will be served. The Ambassador of Finland, H.E. Ms Päivi Kaukoranta will be present at this event. The price of a first-class ticket to the concert, including the welcoming event, is 59€. More information and registration for the event will be posted here closer to the event. 
---
Rotterdam Philharmonic Orchestra launches new festival centring on Finnish composer Sibelius
The Rotterdam Philharmonic Orchestra is organising a festival this year centering on the legendary music of Finland's greatest composer: Jean Sibelius (1865-1957). His seven symphonies will form the common thread during two, weekend-long series of performances that make up the festival. The first part of the festival will be held over the weekend May 17 to May 19, 2019. Part two follows over the weekend November 29 to December 1, 2019.
Sibelius's hidden wealth
He's a national treasure in Finland, but outside his native country, he's seen more as an exotic figure who very rarely gets a look-in in the standard repertoire. You've heard the name, but not the oeuvre. Nevertheless, there are plenty of good reasons for the Rotterdam Philharmonic Orchestra to give this relatively unknown composer his own festival and to let audiences get to know a creative genius whose work was quite ground-breaking at the time. Few composers reveal so much hidden wealth on closer inspection than Jean Sibelius. Focusing on the folklore, nature and character of his country, Sibelius sets himself apart from other 'nationalist' composers such as Chopin, Dvo?ák and Albéniz. Woodwind motifs are recurring elements in Sibelius's music, conjuring up images of birds flying overhead.
First series in May 2019
Violinist Pekka Kuusisto, who opens the festival on May 17 with Finnish chamber music, identifies a spiritual quality, which are noticeable in the symphonies. "There are clear traces of Tchaikovsky and Buckner in the first three symphonies, but then Sibelius's drive for experimentation kicks in," says Kuusisto. He will be improvising during the opening concert on May 17 with the rune-singer Ilona Korhonen. Songs by Sibelius will be performed by Helena Juntunen, one of Finland's most foremost sopranos, together with her regular accompanist. Conductor Jukka-Pekka Saraste will delve further into the meaning behind Sibelius's music. This first part of the Sibelius Festival closes on Sunday May 19 with two phenomenal symphonies; in the Fourth Symphony, the cello section plays a prominent role in this dark work, full of intense melancholy.