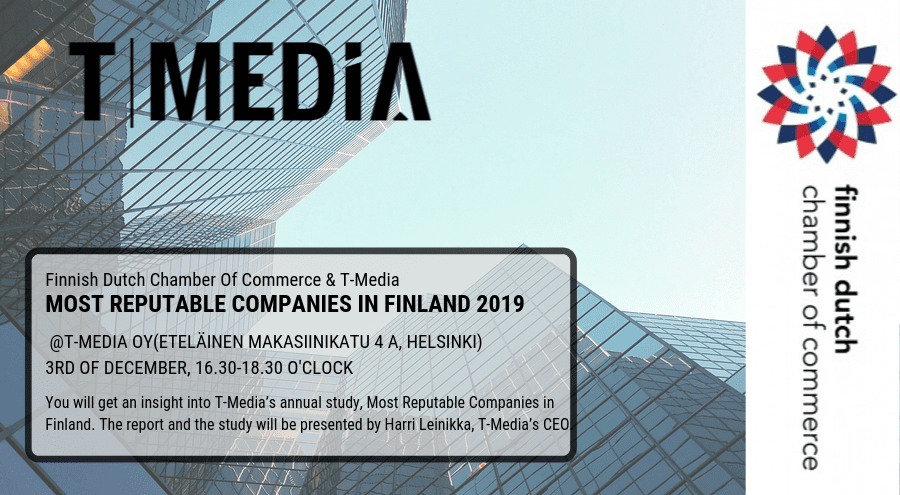 Most Reputable Companies in Finland 2019
Click here for the photo gallery!
The FDCC would like to welcome you to our joint event with T-Media Oy. In this event, you'll get an insight into T-Media's annual study, "The Most Reputable Companies in Finland". The research report lists companies with the best and worst reputations, assessed by the general public in Finland. The methodology and the results of this year's research will be presented by Harri Leinikka, the CEO of T-Media. We shall also have time for discussion, and networking with drinks and snacks.
T-Media is Finland's leading research and expert organization on reputation and responsibility. Its best-known service is the Trust&Reputation Survey, which is widely used in leading companies and public administration. The results of this year's release were widely covered by the media in Finland, such as Helsingin Sanomat on 29th of October.
Venue: Eteläinen Makasiinikatu 4 A  (2nd Floor), T-Media Oy, Helsinki
Date and time: 3rd of December, at 16.30-18.30 o'clock
Registration: The event is free of charge, and also non-members of the FDCC are warmly welcome! We ask you to register not later than 27th of November by sending an email to office@fdcc.eu.
 We recommend early registrations because the space is limited.