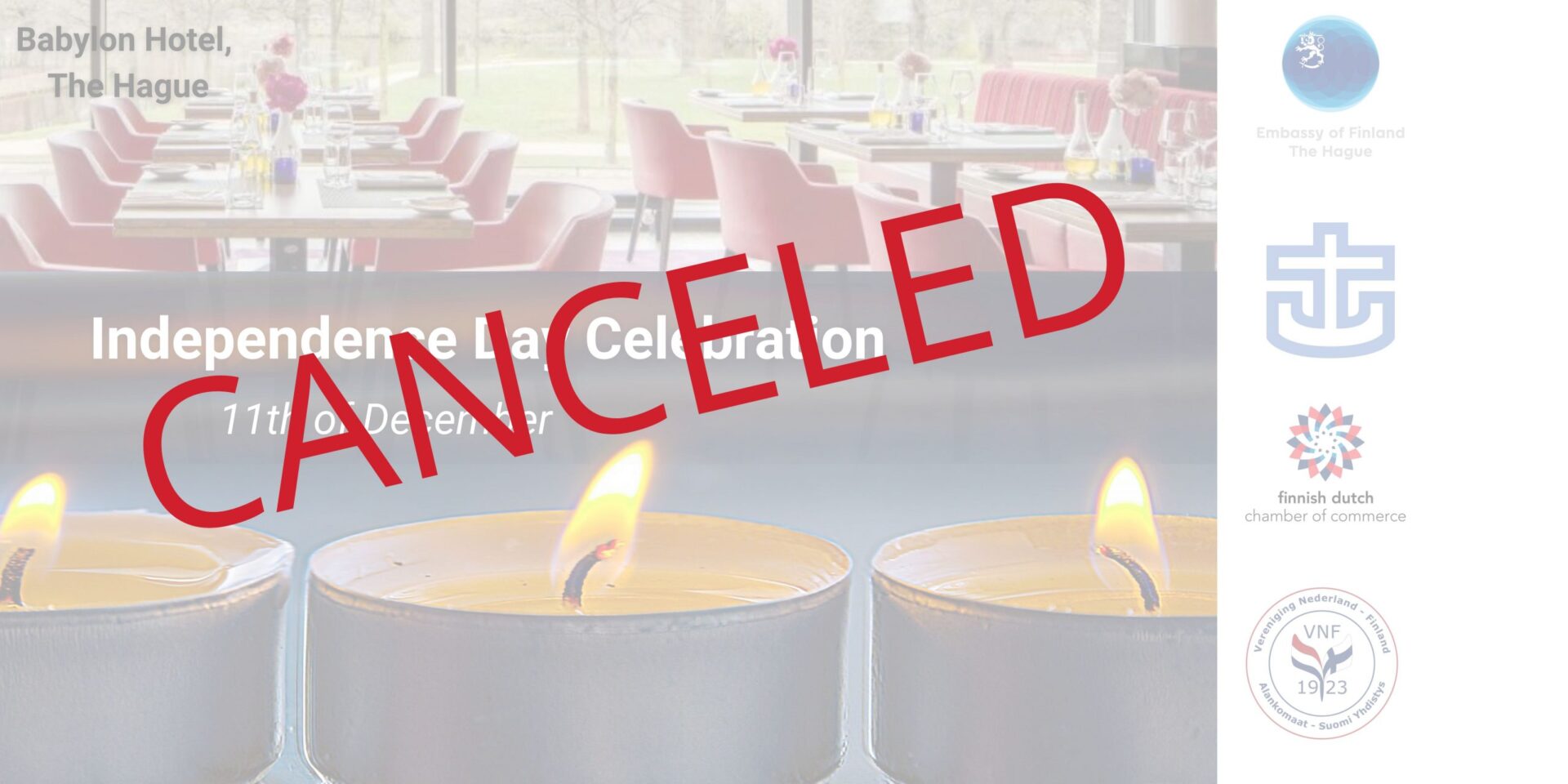 CANCELED: Independence Day Celebration
UNFORTUNATELY DUE TO CIRCUMSTANCES THIS EVENT HAD TO BE CANCELED.
It is a pleasure to invite you to celebrate Finland's 104 years of independence together with the Embassy of Finland,  Finnish Seamen's Mission, and Vereniging Nederland-Finland on the 11th of December 2021 at the Babylon Hotel in The Hague. Quests shall enjoy a four course meal, and the program of the evening will include various elements such as a speech by the Ambassador, H.E. Mrs. Päivi Kaukoranta. Duo Ermitaz will provide music for the evening. Duo Ermitaz is a Finnish popduo formed by Sinimari and Niklas, nowadays living in Belgium. They are playing modern and classical popmusic in a relaxed melancholic style.
Program:
18:00    Welcome reception
18:30    Independence Day dinner
23.00    End of the Event
Venue:
Bezuidenhoutseweg 53 2594 AC, Den Haag, Netherlands
Participation fee:
Members (and their plus-one) €59,50 p.p.
Non-Members €74,50 p.p.
Menu (in Dutch):
Salade met gerookte zalm, ingelegde groenten, crème van Basilicum en gepofte tomaat
***
Herfst bouillon van paddenstoelen met een garnituur van gebakken paddenstoelen en persillade (mengsel van peterselie en knoflook.
***
Wilde eend filet met een gekonfijte eenden pootje, Pommes sauté, rode kool en gestoofde Gieserwilderman peer
Vega optie; Gestoofde pompoen met Vandouvan en zoete aardappel
***
Granite van cranberry, gepocheerde gieserwildeman, kaneel karamel
For more information, i.e. about accessibility, please visit the website of the Babylon Hotel: https://www.babylonhoteldenhaag.com/en/
Please register as soon as possible but at least before 30th of November .
FDCC members via e-mail: office@fdcc.eu
Others via e-mail: info@vnf.nu