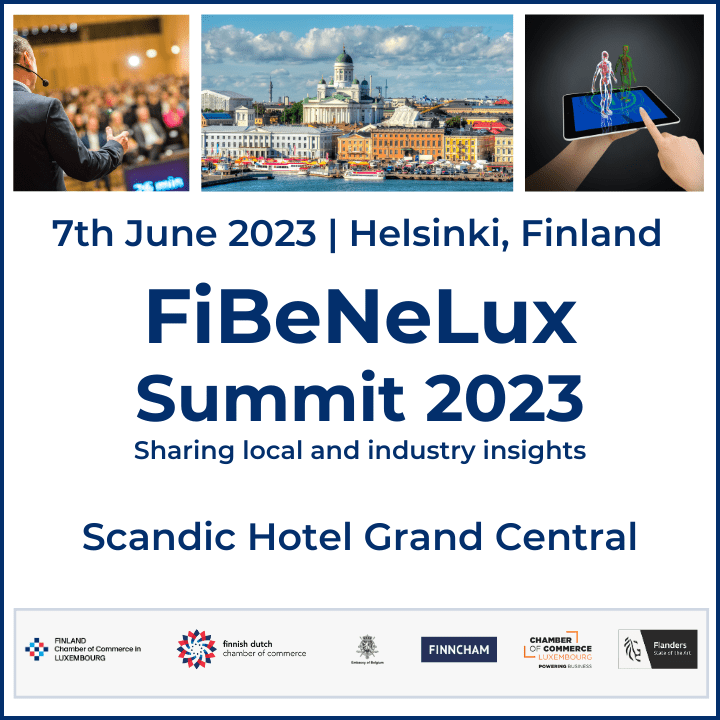 FiBeNeLux Summit 2023
Finland Chamber of Commerce in Luxembourg and the Finnish-Dutch Chamber of Commerce
Invite you to
FiBeNeLux Summit
Date: Wednesday 7th June, 2023
Place: Scandic Hotel Grand Central, Helsinki, Finland
Time: 9:00 – 17:00 EET
How small countries can make a big impact?
Are you interested in international business and collaboration opportunities between Finland and the BeNeLux countries?
This one-day conference brings together key organisations, businesses, and entrepreneurs representing four countries to provide interesting market and specific sector insights to businesses that are looking for international growth opportunities.
The program and networking opportunities build a climate of innovation enforcing relevant connections between the markets and across industries.
The keynote speakers provide market insights, and the interactive panel discussions strengthen the exchange of sector insights – all from the business perspective, as of the latest research and future opportunities.
Panel discussions are led by sector experts in each field:
Cleantech & Sustainability: Heli Antila, VP Biobased Solutions, Fortum Oyj
Smart City & Mobility: Sami Sahala. Lead Smart Mobility Expert, Forum Virium Helsinki
Healthtech: Harriet Gullstén, Msc PhD, Head of Viikki Innovations
Culture Insights: Egbert Schram, Global CEO, Hofstede Insights
Find out more about the event & the speakers.
The event is organised by Finland Chamber of Commerce in Luxembourg in collaboration with Finnish-Dutch Chamber of Commerce, Helsinki Region Chamber of Commerce, Luxembourg Chamber of Commerce, the Belgian Embassy in Finland, the Embassy of the Netherlands in Finland, and Flanders Investment & Trade.
There are three types of tickets:
INDIVIDUAL TICKET – Private persons attending -PRICE € 253
COMPANY TICKET – 3 persons attending – PRICE € 628
PLATINUM COMPANY TICKET – 3 persons attending – logo visibility for the company -PRICE € 1,253