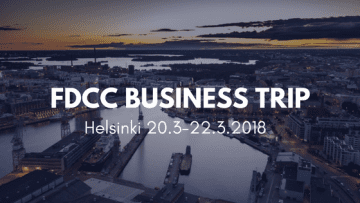 Business Trip to Helsinki
View the photo gallery here
In March the FDCC organised a business trip to Helsinki, Finland. The programme of the two-day visit was filled with inspiring speakers, company visits and networking events. Also, expanding the Finnish-Dutch relations has been on the agenda of the FDCC for a long time so during this business trip the founding meeting of the Finnish-Dutch Chamber network in Finland was held at the residence of the Dutch Ambassador in Finland, H.E. Mr. Cees Bansema.
The programme in Helsinki 20.-23.3.2018. 
Wednesday 21.03.2018
Breakfast
09.00 Departure from hotel Simonkenttä
09.30 Tour around the 1st floor of the UPM Biofore House by Mr Markku Herrala, Director Public & Media relations
10.00 UPM presentation 'GrowDex' by Ms Pia Nilsson, Head of Biomedicals Business
12.00 Buffet lunch offered by UPM
13.30 'Work wellbeing' presentation at Fondia
15.00 'Transforming Art Management' presentation at Musiikkitalo by Mr Aleksi Malmberg, General Manager of Helsinki Philharmonic Orchestra
Tour of Musiikkitalo
18.00 Kyrö Distillery presentation 'Creating a new brand and globalizing it' at Ohrana Brewery by Mr Miika Lipiäinen, CEO and Ms Pauliina Marjanen, Brand Ambassador
20.00 FDCC dinner at Restaurant Juuri
Thursday 22.03.2018
Breakfast
09.00 Departure from hotel Simonkenttä
09.30 Reaktor presentation 'Company Culture and Leadership in a Modern Expert Organization' by Ms Nelli Vilkko, Lawyer and Senior Director Business Operations
10.30 Nokia presentation 'Perspectives on Digital Health Transformation' by Mr Matti Vänskä, Director Business Development Nokia Technology
11.30 Neste presentation 'MY Renewable Jet Fuel' by Ms Virpi Kröger, Commercial Development Manager
12.30 Lunch offered by Reaktor
13.30 Solnet Group presentation 'IoT Enabled Solar Securing Assets and Investment' by Mr Arttur Kulvik, CEO Solnet Group B.V. and Mr Veli-Matti Heimonen, Country Manager Solnet Finland
14.30 Kone presentation 'Safety is a Serious Business', Wim Koster, Head of Global Safety
16.30 Departure from hotel Simonkenttä
17.00 Arrival at Villa Kleineh, Residence of H.E. Ambassador Cees Bansema Kick-off meeting FDCC Finland & Networking Reception