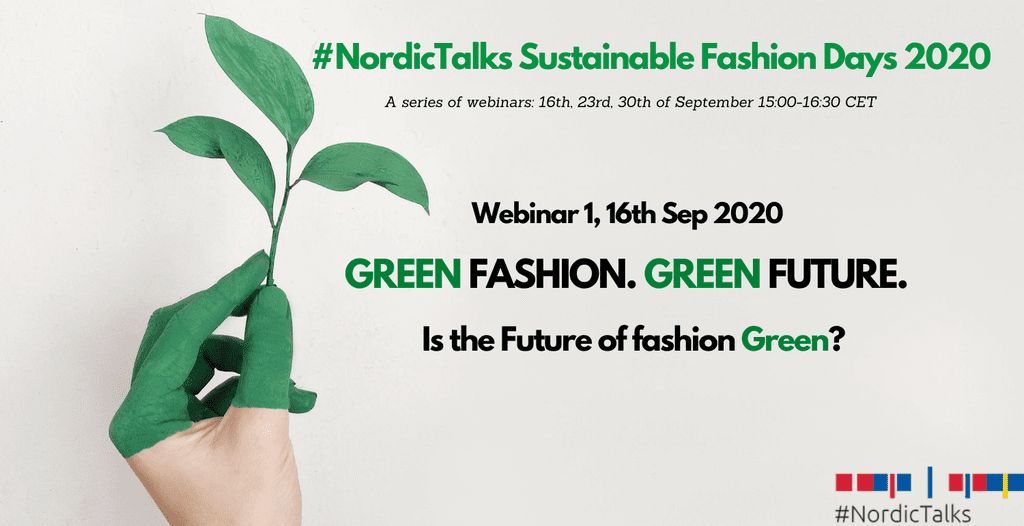 #NordicTalks2020 – Sustainable Fashion Days
#NORDICTALKS Sustainable Fashion Days 2020 
With the #NordicTalks Sustainable Fashion Days 2020 we aim to raise awareness for sustainable fashion and the environmental and social impact, to connect the sustainable fashion industry in the Nordics and the Netherlands, to support new collaborations and experience exchange, to spark the conversation and to showcase leaders and innovators. 
#Nordictalks Sustainable Fashion Days 2020 is organized in collaboration with the Danish Dutch Chamber of Commerce, Finnish Dutch Chamber of Commerce, Norwegian Dutch Chamber of Commerce, Swedish Chamber of Commerce for the Netherlands, Embassy of Denmark in the Netherlands, Embassy of Finland in The Netherlands, Royal Norwegian Embassy in The Hague, Embassy of Sweden in The Hague 
We are very pleased to invite all Members of the Nordic Chambers of Commerce and their relations, the Nordic Embassies, Government representatives, sustainable (fashion) networks and others interested in the Nordic – Dutch Sustainable Fashion to take part and participate in the #Nordictalks Sustainable Fashion Days 2020. 
1st WEBINAR 16th September 2020 | 15:00 – 16:30 
GREEN FASHION. GREEN FUTURE | Is the Future of fashion Green? 
With a call for sustainable fashion that is more conscious (buying less, using better materials), fair (social justice in the supply chain, livable pay) and circular (sharing/renting business models, longevity, repairing and clothes with stories), how does a sustainable fashion company look like? What do they produce, where, in what way and in what quantities? Who are their customers? Who are the producers? What materials do they use, how do they sell clothes and for how much? 
Insights into the big systemic changes transforming the industry and recreating the trends. Is sustainable collection the answer? Or do we need a strategic change and new business model? How to achieve this?

 
Big brands, new brands. Collaboration with innovative start-ups and scaling of ideas

 
More info about the event and the guest speakers can be found on the #NordicTalks website. 
 
2nd Webinar, 23rd September 2020 | 15:00 – 16:30. – CONSUMERS TURNING GREEN. 
3rd Webinar, 30th September 2020 | 15:00 – 16:30.  – WE KNOW NOW. 


Sponsors: 

Registration is free of charge and can be done via the website of #NordicTalks.